Download this gift certificate, or I can send it to the recipient!
Whether you're striving to be a concert guitarist, composer/songwriter, or just wish to learn your favorite songs, I customize individualized instruction based on your needs:
Learn solid, confident technique
Build a foundation in music theory
Develop your Composition/songwriting skills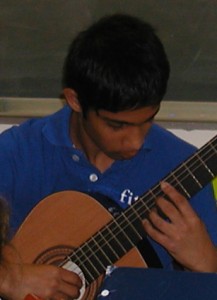 IÂ offer:
Classical instruction
All acoustic styles,including jazz, folk, traditional
DADGAD/non-traditional tunings
(I was trained at and taught for 20 years at a conservatory).
Also:
Improvisation, Music Theory, Composition.
Young or old–students of all ages and playing levels are welcome.
Weekly, bi-monthly, monthly, or only occasional lessons. What's right for you?
Can't get to me? Facetime lessons are also offered.
I also teach a variety of workshops, geared to guitar players of all levels and non-guitarists alike. A workshop can be 2 hours, half a day before or after a show, a weekend or up to two weeks. Some favorite topics over the years (outlines available):
EXPANDING THE TONAL AND EXPRESSIVE PALLETTE WITH A FRESH LOOK AT RIGHT HAND TECHNIQUE
Guitarists tend to think of their instrument in terms of learning frets, fingers and strings. But there is a whole other dimension of expression that can happen when we think of the right hand differently. One of my most popular workshops.
NOT FOR GUITARISTS ONLY!
I often say I'm a musician first; guitar is only the voice through which the music speaks. What is the Creative Process? How do we find a voice of expression without getting bogged down in technique?
How do we learn to transcend the instrument? What is Creative Listening? A workshop for all musicians (guitarists, "fret" not: you will learn plenty about our instrument as well!).
THE PERFORMER AND AUDIENCE AS PARTNERS: COMPLETING THE CIRCLE
The target participants for this Active Listening Workshop: Adults with a mix of musical backgrounds, ranging from no experience with performing music to amateur or semi-professional performer.
IMPROVISATION AS SPONTANEOUS COMPOSITION
Many people think of Improvisation as some mysterious skill that happens "over the chord progression". We'll look at it a little differently in this workshop for all musicians.
THIS IS HOW I DISAPPEAR: THE GUITAR MEETS A WORLD OF TRADITIONS
"This Is How I Disappear" is more than a CD title–it's a journey into an intensely personal creative process. I talk about "disappearing" as a creative necessity, and "reappearing" as its logical outcome, all exemplified by music from my newest collection.
And if you're looking for guidance on forging a career in music, I can be a valuable resource, with practical experience in all aspects of the business side of making music, including:
Recording
promotional materials
radio/press servicing
stagecraft
Contact me: michael@fallingmountain.com